Day 95:  No Sex
So the day finally arrived that I was scheduled to meet Max for lunch at "Bisous" in West Hollywood . . .
For those of you non-French speakers (like me), "Bisous" is the French word for "kiss."
When I say "Bisous," I sound like a really bad B movie actress – noticeably deficient of the skills required to simulate sexy foreign accents . . .
However when I imagine Max saying it . . . I picture his beautifully puckered strawberry stained lips – releasing the words like the dancing melody of perfect music . . .
The morning of, I performed my usual "old woman transforming into a young hip 30-something" routine: applying a little extra perfume, wearing a little more form fitting clothes, weighing heavy on the eye liner  . . .
However this time the alteration came a little more naturally . . .
It felt a little less like playing "dress-up" and a little more like "getting dressed."
An experience similar to when Michael J. Fox finally begins to embrace the uncomfortable transformation from an awkward teenager into a "bodaciously bad" teen wolf  . . .
Minus the fur of course . . .
There is something surprisingly rewarding that occurs when you begin to pay more attention to yourself in hopes that someone else will pay attention to you . . .
Eventually you begin to like paying attention to yourself – abandoning all regard to whether or not someone else will pay attention to you.
Noon that day snuck up sooner than I expected – due to my usual procrastination in completing a crucial deadline . . .
Consequently, I drove into the Bisous parking lot more than "fashionably" late, even further delayed by classic L.A. "lunch time" traffic.
I had yet to apply my magic "year erasing" lip gloss:  A Mac brand ironically named "Underage" – in a naturally nude color.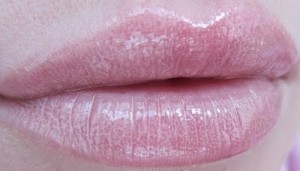 For you women that have not tried it, I highly recommend it . . .
It possesses an uncanny ability to wipe off a couple of years from your face – giving you that fresh-faced dewy look – commonly exhibited by pre-teens prior to their destined entry into the world of laugh lines, under-eye circles, and acne.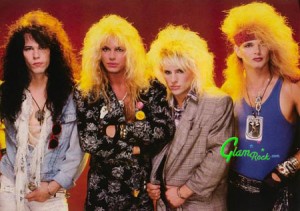 I quickly parked, took a second to apply my cherished lip gloss, and rigorously scrunched my lifeless hair – just enough to almost emulate a member of a bad 80's hair band . . .
I rushed into the restaurant and found Max sitting at a cozy medium-sized table – sipping on a tiny cup of cappuccino.
"Is this your wake up coffee, or mid-day coffee?" I asked as I approached the table.
He turned around and stood up to "bisous" me on the cheek . . .
His lips were moist . . .
soft . . .
inviting . . .
In the few seconds it took to get to my chair, a highly unlikely, yet extremely coveted scenario invaded my mind.
It went something like this:
I approach Max sitting at the table .  . .
He turns and looks at me desirously – piercing through me with his Lightsaber green eyes.
He immediately shoves all of the carefully placed flatware, stemware, and linen napkins off of the table – disregarding any and all strange public glances . . .
He grabs me by my waist . . .
Picks up all 110 pounds of me . . .
Okay maybe 115/120 . . .
Tosses me onto the stark white linen table cloth . . .
Hovers over me like a predator sizing up his prey  . .
And then proceeds to kiss me passionately like French people do . . .
or at least the way I imagine French people do . . .
(snapping back to reality)
"It's my "day after a rough night" coffee," he said – suddenly revealing a serious and solemn look; a departure from the mischievous schoolboy grin I had grown to love.
"Are you okay?" I asked . . .
Max:  "Yeah, I'm fine." – not at all convincing.
He proceeded to attempt a little small talk – obviously superseded by his underlying gloom.
Are you sure you're okay?  I asked – somewhat prying . . .
"Actually, no" . . . he confessed – avoiding any and all eye contact with me.
Max:   "It's my girlfriend . . . ummmm ex-girlfriend" . . . .
Girlfriend?!? What girlfriend? What the hell happened to "just a girl?" I thought to myself . . .
He proceeded to share a dramatic tale involving his girlfriend going to a bar with "the girls," coming home drunk, puking all night, and getting a random call from some "dude" at 3 am.
As the details continued to unfold, I began to pout internally – selfishly realizing that my original hopes of endless flirtatious glances, sexually charged conversation, and playing "footsies" under the table were not going to happen at this lunch.
The more and more he went on about his heartbreak, the more the once externally strong facade of a seemingly detached and unaffected hot college boy began to crumble . . . along with all hope of any of my ridiculous fantasies ever being realized.
The big burly, muscular hot-man-boy I dreamed about all week was now just a wimpy heart broken college kid – obviously being played by an equally hot college girl.
He continued to tell me how he didn't want to lose her because she was "like the hottest girl" he ever dated, and all the guys he knew wanted her.
This information required me to resist an "internal puke" – a phenomenon that occurs when a situation in itself makes you nauseous, however you unfortunately lack the assistance of excess alcohol or late night greasy tacos to complete the task.
Nevertheless – the fact that it was two extremely attractive human beings having problems in the relationship department somehow made it a little less tragic, and I honestly struggled to conjure up a little sincere sympathy.
I debated telling him how ironic it would be ten years from now when he would realize that the hottest girl in school would also turn out to be the worst in bed, the dumbest, and the most likely to gain 20 pounds after graduation; at least this is what all my male friends who dated the hottest girls in college have told me.
Whether it is in fact an attempt by them to merely stroke my "average girl" in college ego is irrelevant – this is the reality I choose to believe and no one can tell me any different.
Nonetheless, I opted to repress any temptation to share my obviously insensitive and potentially self-serving thoughts – realizing that the time was slightly inopportune for ummmm . . . the truth.
After what seemed like at least a hundred ions of uncomfortable silence passed, we finally agreed to each order a cheeseburger and a beer – surprising options on the menu of a trendy French restaurant.
Unfortunately, I hate beer.
I am a professed wine slut:  trying any and all wines – cheap, expensive, old, new . . . free  . . .
(preferably free)
However, I knew the moment did in fact call for a beer – you know: college kid, multiple layers of frosty lip gloss, and talk of whorish ex-girlfriends.
We continued to partake in more eating, a little less small talking, and definitely no talking of law school or LSAT prep courses . . .
I did manage at some point to summon the traditional consolation speech – something along the lines of "everything happens for a reason, don't settle for less than you deserve, and time heals all wounds"  . . .
All of which we know never really contribute to the healing process, but are nonetheless par for the course when you are the consoler.
In between cheesy break-up quotes and cheesy burgers, we did laugh a few times, however the lunch itself concluded quite uneventfully.
As I paid for the check, I found myself feeling like a prize idiot – having imagined all of those ridiculous scenarios – each involving Max and I congruently naked in my head.
Those once perceived premonitions – now painful impossibilities.
We each walked out of Bisous; doggie bags bearing half a cheeseburger in hand and a shared case of slight indigestion.
After exchanging a few congenial final words, we parted ways in the parking lot – very much unlike we did at the end of our last rendezvous:
with a platonic sorority hug.
As I drove back to the office, I became consciously aware of the loathing I was beginning to accumulate for his hot ex-girlfriend . . .
Not only for breaking his heart, but even more so for ruining my one and only last chance to solidify Max's position as my future canbana boy.
Nonetheless, I managed to push any thoughts of Max and my profound disappointment to the back of my mind, worked quite diligently the rest of the day, and finally managed to finish that damn contract at about 7:00 p.m.
I finally left the office and headed home a little after 8 p.m.
Acknowledging that the moment definitely called for tunes by a musician who was also emotionally damaged and equally equipped with self esteem the size of my left pinkie toe . . . I decided to blast my playlist of The Cure.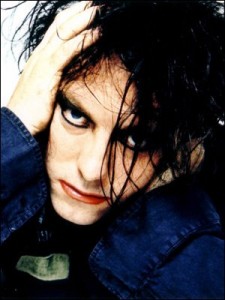 As I found a way to "rock out" to "Pictures of You" with my windows rolled down – welcoming the cool LA evening breeze, I heard my cell phone ring in my purse . . .
Knowing it had to be my boyfriend – wondering where the hell I was, I immediately pushed the answer button on my ear piece.
Me:  "Hey babe!  How's it going?"
Max: "Wow! . . . babe already?"
(frantic)
Me:  "Oh my gosh! Who is this?"
Max:  "It's me .. . Max."
(pulled out cell phone from purse to confirm)
Me:  "Max!?!  Ohhhh . . . hi.  What's going on?"
Max: "Hey, I'm sorry for being such a pain in the ass today . . . I'm just a little pissed, but I'll get over it" . . .
(note to self:  "pissed" for a college boy is code for "heartbroken")
Me: "No worries, it's cool . . . it happens." . . .
(hoping "cool" is a college-friendly term)
Me:  "So what's up?"
Max:  "We'll I'm over here at Stag having a beer, wanted to see if I could buy you one to make it up to you" . . .
(forced pause – feigning consideration)
Me:  We'll I'm kinda tired, I've had a really long day . . .
Max:  "Ohhh come on!  Just one beer won't hurt" . . .
Me:  "Ummmm okay, I guess one beer won't kill me."
(or would it?)
Max:  "Great, I'll see you here then."
Me:  "K . . . see you soon."
I hung up the phone with maybe one ounce of restored self esteem and began thinking . . .
Maybe I can start to like the taste of beer . . .
- Lucky

. . . to be continued . . .
Copyright 2010 Converge Entertainment, LLC
Tags: 30-something, awkward teenager, B movie, bad 80's hair band, beer, boyfriend, cabana boy, cappuccino, cheeseburger, coffee, dewy, fashionably late, flirtatious, footsies, girlfriend, heart, heartbreak, hot college boy, hot-man-boy, inviting, kiss, L.A., lip gloss, lips, Lucky Lopez, moist, passionately, piercing, relationship, sexually charged, soft, sorority hug, tragic, West Hollywood, wine slut