About Lucky
Is this where I am supposed to talk about myself?  Isn't there a link to a boilerplate bio on here that says "click here" if you hate to talk about yourself?
For some reason, I am outrageously comfortable talking about my most intimate problems with a host of complete strangers, but am critically uncomfortable talking about myself.  I suspect I am not alone with this character trait.  Most people find it easier to write to Dear Abby, than they are creating some sort of personal resume of their self perceived status, accomplishments, and flaws.  I think no matter how different, awkward, or deficient we perceive ourselves to be in comparison to the rest of the world,  it is the belief that our problems are somewhat congruent that helps us sleep well at night.
In either case, I am nothing special . . .
My name is Lucky Lopez, and I am just an average girl in her thirties trying to make it in the 21st century:  saturated with the complicated do's and don'ts of modern dating, the pressure cooker of coveted American success, and the current transformation of our humanly-operated world to a technological one.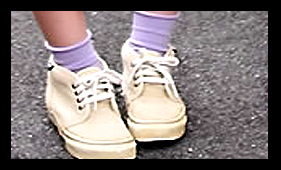 The truth is, I understand no more about men now, than I did when they would intentionally step on my toes in third grade.  The only difference is, I am now forced to deal with them on a daily basis, and am no longer equipped with the option to restrict my recess time to the hop scotch and jump rope corner.
I am not the typical chick that dreamt of a puffy white dress, diamonds, and "forever' since I was a little girl.  It's not that I hate men, I've just had other priorities on my mind I suppose.  So here I find myself – with at least 1/3 of my life behind me, and still single.
I hope you will find my dating and life experiences entertaining.  I share them in hopes of gaining some insight or understanding of the species otherwise known as the opposite sex:  Men.
Or, in the very least, . . . to help me sleep better at night.