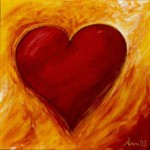 I have frequently been accused of being passionate . . .
well, I call it passionate . . . others may choose to call it: animated, intense, melodramatic, fervent, and hot-headed – to name a few alternatives . . .
I just call it passionate.
I suppose I was born this way . . . or so it seems – as evidenced by my mother's overly eager desire to share childhood stories – wherein I would purportedly get so angry, I would tremble in my tiny bones – tight fisted as all hell get out, and purple veins would rear their ugly head on the paleness of my 2 yr. old forehead.
Passion, . . . yes, that's what I call it.
I can agree that the fact that I am 36 and still unmarried may indicate that my "passion" may possibly be Continue reading Blog #19: Is Passion A Hazard?